My friend and colleague, Jennifer Hamady, explores the roadblocks and solutions to the behind-the-scenes issues faced by singers in her 3rd book, The Art of Singing Onstage and in the Studio
.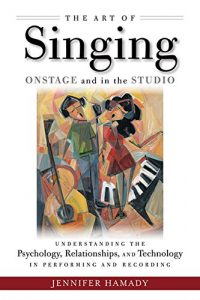 "No matter how fantastic your voice is or how much money is behind you, if you don't know how to work with recording and performance technology – whatever your genre – you're in for a rough ride. Countless phenomenal singers stagnate professionally and even leave the business because they can't figure out how to deliver…or how to communicate their needs to producers and engineers. Hamady also reveals the root causes of performance anxiety in music and beyond, as well as how to overcome it."
I recommend this book to all my performing voice students as an invaluable resource, and not just because Jennifer has quoted me in the section entitled:
Partnership Onstage and in the Recording Studio
Jennifer used examples of partnership from my experience as a recording engineer who understands singers (because I am one, and because I train singers on a daily basis). My ability to operate in both realms of music-making has enabled me to help singers "deliver the goods" when it comes time to record. Sometimes this requires me to attend a recording session at the singer's studio of choice. Other times I will actually record the singer in my studio and hand the tracks to the primary engineer who uses them in the full-fledged recording session.
Either way, helping the singer combat the sometimes pressure-filled recording session is the best way to ensure a stellar performance for their recording.
Are you Ready for the Stage?
Most singers have to use a microphone at some point. They spend countless hours training their voice and learning songs but NOT while using microphones and sound re-enforcement. Getting on stage is nerve-wracking enough, but then to have this unfamiliar device make or break their performance?
Jennifer emphasizes the critical nature of practicing the use of sound equipment, as do I.  My in-person voice students all practice singing their songs with the use of industry standard performance microphones and monitors to prepare them to shine onstage instead of the dreaded "flop".
Check out what Alternative Vocal Training sessions look like in this video:
Contact me to start YOUR Alternative Vocal Training: